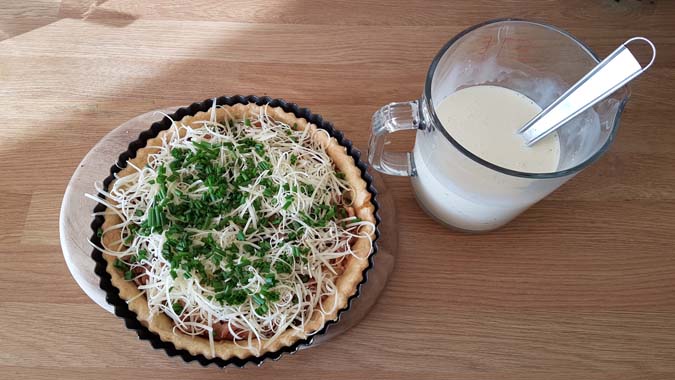 A well balanced, creamy quiche with a classic combination of gruyere cheese and chives.
Ingredients
1 quantity of short crust pastry
2 teaspoons olive oil
1 brown onion (finely chopped)
4 bacon rashers (slices), rind removed, finely chopped
50g (1 3/4 oz, 1/2 cup) coarsely grated gruyere cheese
1/4 cup snipped chives
3 eggs
250ml (9 fl oz/1 cup) pouring (whipping) cream
125ml (4 fl oz, 1/2 cup) milk
Method
Get a pan on a medium to low heat and add the oil. Get those onions on! I like them caramelised and this takes about 30-40 minutes on a medium to low heat. After around 20 minutes, add the chopped bacon periodically stirring as you go, so it doesn't burn. Once you have it to your liking remove and set to one side.
Roll pastry between 2 sheets of non-stick baking paper to disc 4mm (1/4 inch) thick. Place into 24 cm (9 1/2 inch), fluted, loose-base tart (flan) tin, pressing into the edges with fingertips. Trim excess pastry and cover with cling film and pop in the fridge for 15 minutes to rest.
Preheat oven to 200 oC (400 oF, Gas 6). Line pastry shell with non-stick baking paper and fill with baking beads, dried beans or rice and bake for 10 minutes. Remove the beads and bake for another 10 minutes.
Reduce oven temperature to 180 oC (350 oF, Gas 4). Sprinkle the bacon and onion mixture, cheese and chives over the cooked pastry shell. Whisk the eggs in a medium jug and add the cream and milk, pour into the shell. Bake for 35-40 minutes or until filling has set.
Remove from oven, leave for 5-10 minutes and serve warm. Scrumptious!