We are not entirely sure who's idea it was to drive to Maastricht when flying seems like the sensible option but it wouldn't be an Andre Rieu road trip without the roads. We left Eastbourne at around 7am and headed over to Hastings to pick up the grannies and then it was off to the Channel Tunnel for the 10:40 crossing.
Journey Start : 7am 9th July 2016
Concert Location: Maastricht, Netherlands
Concert Start: 9pm on 10th July 2016
Distance: 309 miles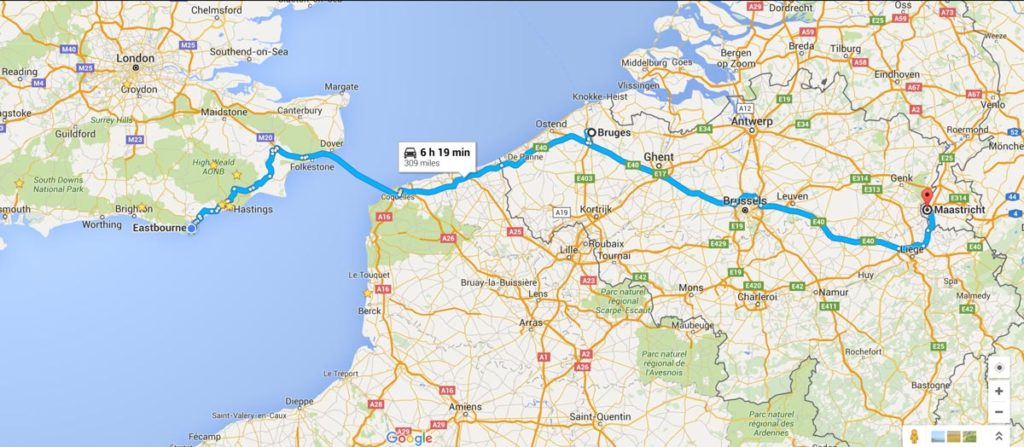 The route by car said it would take about 6 hours but that was without stops. We would be heading straight past Bruges which was about 1hr 20 mins from the crossing in Calais, so seemed like a sensible place to take a break. We could also pick up plenty of chocolate, which was another good reason for stopping. After the stop at Bruges it was non-stop to Maastricht.
The weather was favourable for the journey to Bruges and we arrived at about 1pm, just in time for lunch. As soon as you hit the centre of Bruges you are hit with a whiff of waffles and chocolate so, and as time was not on our side we followed our nose and headed straight to the nearest waffle shop. The waffles were delicious; fresh and warm and covered in melted Belgian chocolate. Asking the very helpful girl serving waff where the best chocolate shops were in Bruges, she kindly marked them out on a local map for us and pointed us in the right direction. The places she suggested were the Chocolate Line and a place called Dumon. Armed with our directions we took a stroll around the corner to find them leaving the grannies to potter round. 40 minutes later and 50 euros lighter we headed back to find the grannies who had been sitting on a bench people watching and enjoying the sun. It was hot in Bruges (28 degrees) so a quick stop at a café for a drink before making our way back to the car to continue our journey to Maastricht.
We arrive in Maastricht at 7pm after taking a detour south. We should have continued north but we must have missed a sign. This added about 45 minutes to the journey. By this time we were all pretty tired and glad to get to the apartment, which I must say was really well presented. Clean, modern and had everything you could possibly want. Cups, plates, cutlery, coffee, kettle and freshly made beds. For our first pop at booking through AirBnB, I for one was really impressed. Location was perfect and the guy who met us told us everything we needed to know. After a cup of coffee it was time to hit the street for some grub. We were all pretty hungry after the long drive and Phew! what a day. Strolling up the road we happened across the Cabinet Bistro. Charming little place serving a good selection of reasonably priced food and cold beers. Just what we needed.
The following day was Sunday 10th of July and we had the whole day to spend in Maastricht before the concert in the evening.
First things first, breakfast. The girls decided on Weetabix, the boy decided on hitting the cafe's. Having crossed the bridge that splits Maastricht he happened across Piepenhoes which was a great spot for people watching and drinking ice tea in the morning sun. It wasn't long until the others joined in. With breakfast done and dusted it was time to find something to pass the time. The sun was shining and we were on the river bank. We noticed a few boats pulling in so we headed over to the ticket office and booked ourselves on a 2 hour boat trip round three old locks by boat. With the temperature rising this was the perfect activity to pass the time. Leaving the mooring area could have been better as the driver collided with a stationary vessel with an almighty bang, which did leave us a little shaken, but only for a short while, the rest of the trip was very relaxing. By the time we had finished the tour, it was time for some dinner and off to the concert.
The concert started at 9pm prompt and we arrived at about 8:30pm. Just as well as it was busy and it took us a while to get our bearings what with how busy it was. Great atmosphere though. With 80 nationalities present, it was amazing to here people from all over the place, the Netherlands, Germany, UK, Brazil, Argentina and Australia all making the trip to see Andre and his orchestra do their thing. And anyone who has seen any one of his shows knows that they are good at what they do. Everyone, even though they did not speak the same language, had come for one thing. The music. It's all about the music.