Breath-taking coastal views, great food and wine, what's not to like?
Landing in Naples at night and being transferred by coach to the Hotel Club due Torri left everything to the imagination as the views of the coastline were hidden in the dark. All you saw whilst travelling your way along the ridiculously thin and winding roads was the twinkling of distant lights. The coach driver was beeping the horn round almost every corner to let people know we were coming. The transfer took about an hour and a half but it seemed much longer.
Waking up on the first morning and heading up the restaurant for a coffee and a croissant and seeing that view for the first time is something that you'll never forget.
The hotel was situated at the right hand side of the coast as you look at it on the map with Amalfi, Ravello, Positano and Sorrento all down the coast.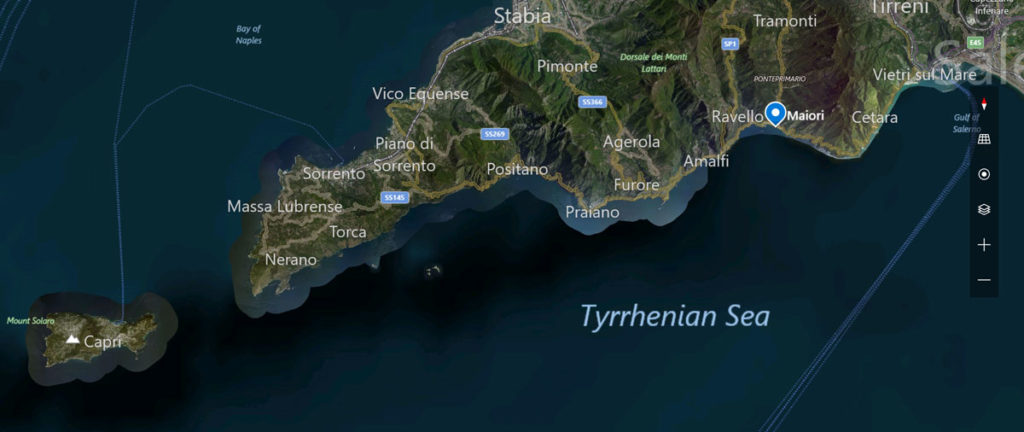 Deciding to stay in Maiori was purely based on the fact that it would quieter, but with easy access to the main areas. It was great as although we never made it to the far end of the coast, we made it as far as Positano, in good time on one of the days.
Driving up and down this coastline is an experience all by itself. There is a constant stream of traffic all shuffling their way along the thinnest road, with everyone getting stuck and having to inch their way past each other. It's a wonder how anyone gets anywhere in the day, but they all seem to get where they need to be…eventually.
The first couple of days were spent checking out Maiori and chilling out on the nearby beaches before we ventured further along the coast. One day walking around Amalfi and going on a Lemon grove tour and on another day we hired a boat and took it all the way to Positano. Travelling by road is interesting, but traveling by boat is even better. You can just stop where you like and take a dip or pull up at a secluded cove and take it all in. Sometimes, a week just isn't enough time. Below is a small selection of the many photo's that were taken.